JOB OPPORTUNITY: MESOAMERICA MANAGER – CERRADA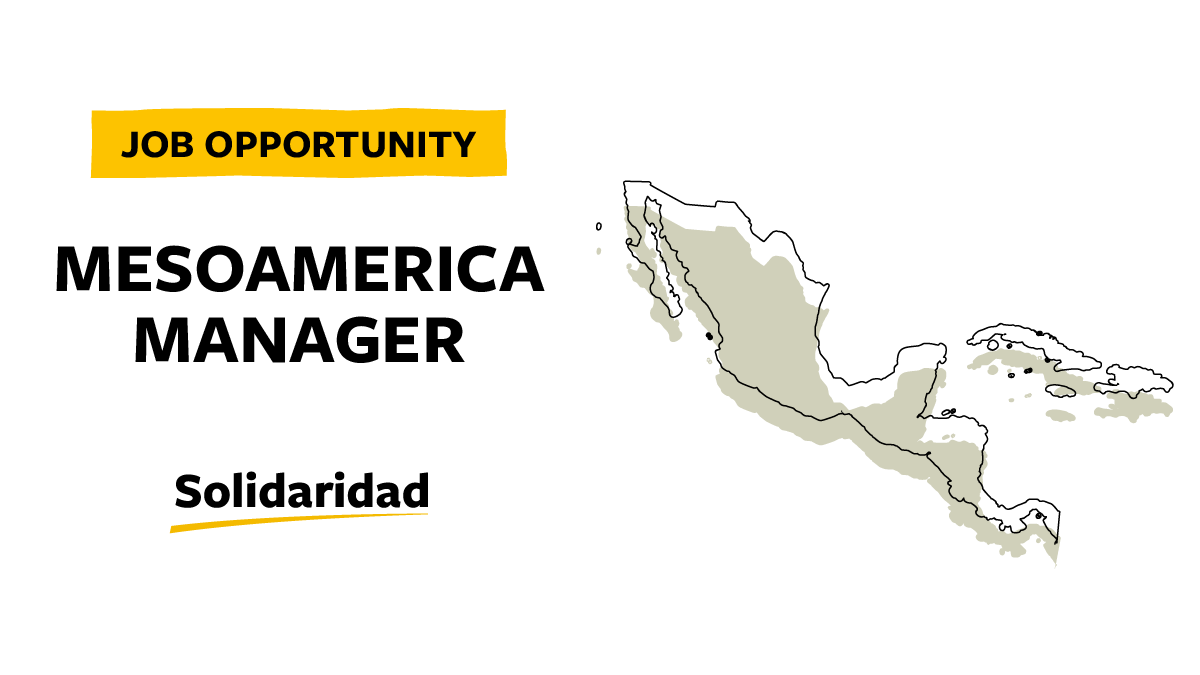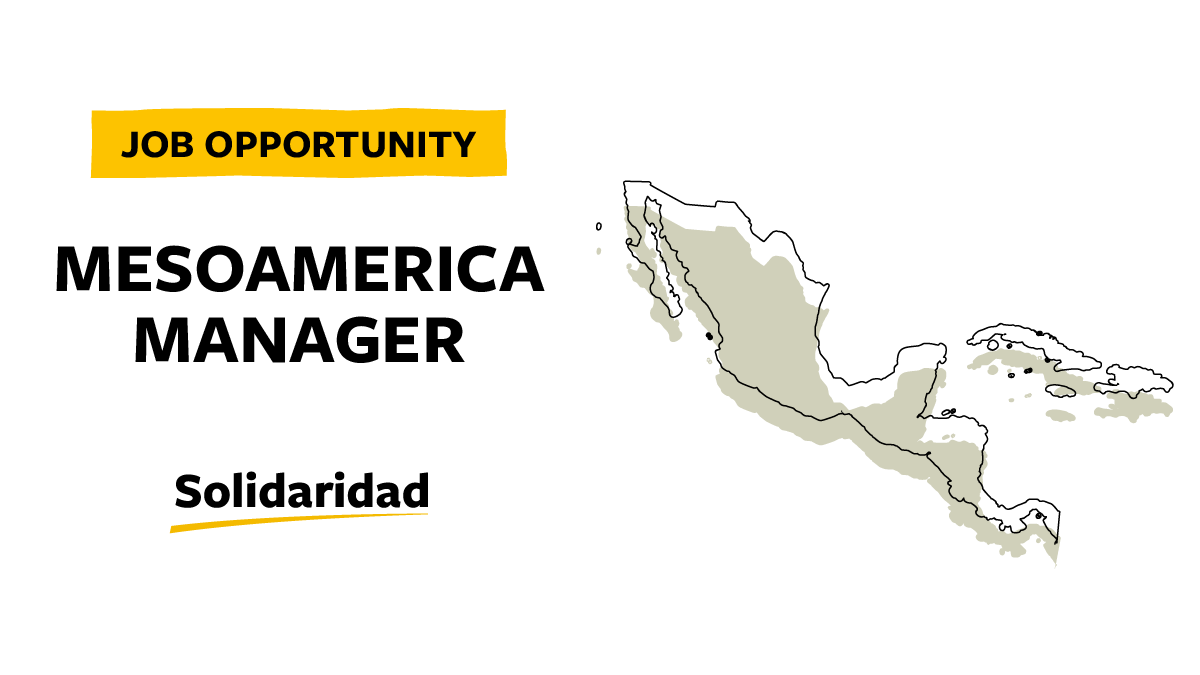 Solidaridad is looking for a strategic leader for the Mesoamerica region. The chosen professional will lead and supervise the Country teams in Guatemala, Honduras, Nicaragua, and Mexico, as well as guide the design and implementation of strategies and alliances to bring the regional office to the next level. The Mesoamerica Manager will report to the Managing Director for Latin America.
If you have the experience, competencies, and motivation to contribute to Solidaridad's mission and growth in the region, we invite you to send your CV and motivation letter indicating why you are suitable for this job to [email protected] by 3rd June 2023.
ABOUT SOLIDARIDAD
Solidaridad is an international network organization, working in 44 countries with seven regional offices on five continents. We work with businesses from the market throughout the whole supply chain to make sustainability the norm and enable producers and workers to earn a decent income, produce in balance with nature, and shape their future.
We have a solid track record in a large range of global industries, such as coffee, tea, and cocoa, multi-purpose crops such as palm oil, sugar, and soy, and more industrial commodities such as mining, textiles, and leather. We also work in food sectors providing such as fruits, vegetables, aquaculture, beef, and dairy.
To know more about our work in Latin America please visit our websites:
http://www.solidaridadsouthamerica.org/es
https://www.solidaridadnetwork.org/
PURPOSE
Lead the strategic development and implementation of Solidaridad's work in the Mesoamerica region, towards the achievement of regional objectives.

Ensures that the programs and projects under their supervision have the necessary resources to execute countries' plans.
POSITION IN THE ORGANIZATION
Reports to the Managing Director in Latin America (LATAM).

Works closely with country leads and program staff in Mesoamerica. Coordinates with regional staff in LATAM.

Member of the LATAM Management Team and coordinates with Country Managers of other LATAM offices.

Coordinates and works with other colleagues of the Solidaridad network in international assignments.
AREAS OF RESPONSIBILITY
Strategic leadership and policy influencing
Sets regional and national strategic objectives in programs and themes that have direct relevance and contribution to the regional multi-annual plan.

Leads the communications and influencing strategy at the country and regional levels.

Contributes to the institutional development of Solidaridad in the region.
Project cycle supervision
Supervises the planning and execution of projects ensuring that results are met, in the manner and deadlines foreseen, and to the highest standards.

Ensures that good relations are maintained permanently with project beneficiaries, partners, donors, and relevant internal and external stakeholders.

Keeps abreast of new knowledge related to sustainability.
Financing and accounting
Responsible for ensuring that country offices have adequate resources to implement a portfolio of projects, permanently seeking to identify new financing opportunities. Responsible for project fundraising and the financial sustainability of the Mesoamerican region.

Final responsibility for the financial management of budgets administered in Mesoamerica.
Human resources management and development
Responsible for the management of human resources, as the highest authority, in the Mesoamerican region.

Hires the appropriate staff so that the office can achieve its objectives. Ensures the professional development of staff.
Quality Control and Knowledge Management
Ensures that country projects are designed and implemented in accordance with regional and organizational standards and systems, liaising, when appropriate, with LATAM and/or Solidaridad network personnel.

Supports and contributes to the regional Theory of Change and learning.
Representation and networking
Develops and maintains a network of professional contacts linked to Solidaridad's areas of work, inside and outside the organization, strengthening Solidaridad's relevance in sustainability fora and influencing sustainability policies.

Legally and institutionally represent Solidaridad in all areas relevant to the operation and development of the Mesoamerica office.
KNOWLEDGE AND EXPERIENCE
At least 10 years of working experience in sustainable development and supply chains.

Applied knowledge of sustainability and green growth.

Master's degree in social, environmental, economic, or relevant sciences.

Extensive experience in program management and development (proven practice in project designing, implementing, evaluating, and reporting)

Proven capacity in fundraising.

Proven experience managing people.

Extensive experience in leading strategic processes at the organizational level.
SPECIFIC REQUIREMENTS
Excellent analytical skills.

Excellent presentation skills.

Strong writing skills.

Able and comfortable in working at both strategic and operational levels.

A natural leader.

Ability to work independently and as part of a regional team.

Excellent interpersonal skills.

An enterprising, creative, goal-orientated and can-do-attitude

Ability and willingness to travel internationally for up to 30% of the time.

Be a national citizen in the region of work.

Fluency in spoken and written English and Spanish.
WHAT DO WE OFFER?
Solidaridad is a flexible organization that gives the space for staff to grow. You will be joining a dynamic team of leaders in Latin America that have grown the region in the last decade. You will also have the opportunity to interact, learn and work with our network staff around the world that are working towards making sustainability the norm in value chains.