Business Development Manager – Sales and Marketing. Suriname's Growth Enterprises (SURGE)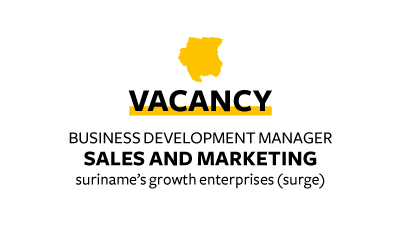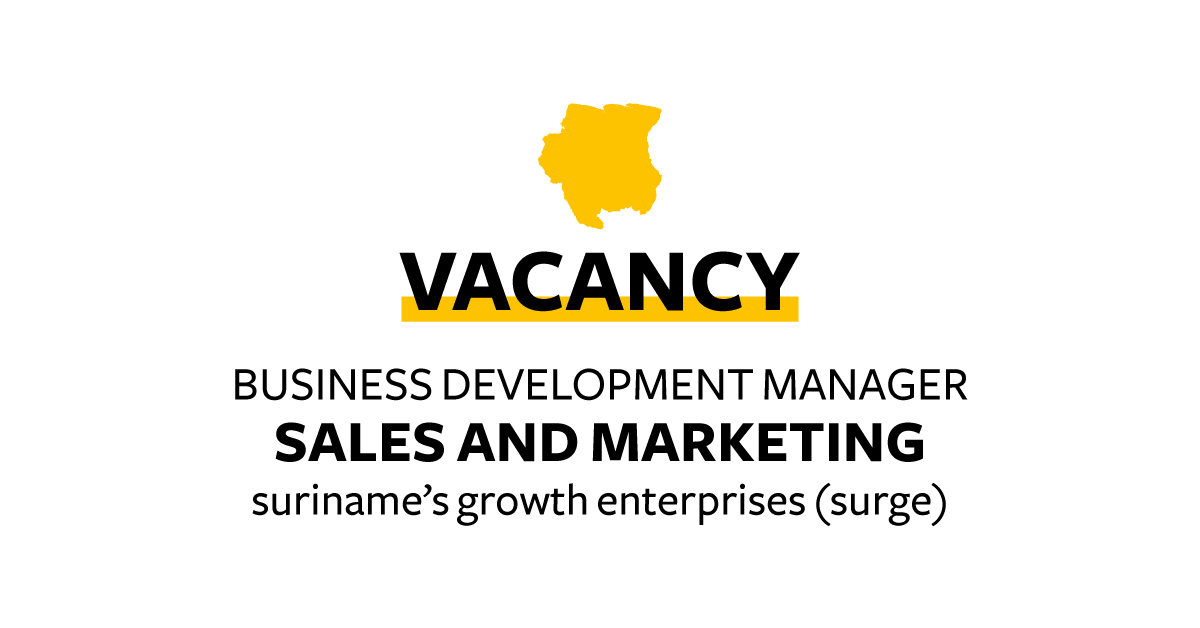 Are you passionate about providing strategic sales & marketing guidance and education to small and medium-sized entrepreneurs to enhance business performance and long-term financial sustainability?
Solidaridad seeks local candidates for the role of Business Development Manager – Sales and Marketing on an anticipated Program for Suriname's Growth Enterprises (SURGE), under the Ministry of Economic Affairs, Entrepreneurship and Technological Innovation (MEA). The project will support growth-oriented enterprises in Suriname through a combination of business development services and matching grants for productivity-enhancing investments and (supply) value chain development.
Interested candidates who comply with the following terms of reference are invited to submit their CV and a Letter of Interest (in English) to [email protected]. Only selected candidates will be contacted.
PROJECT BACKGROUND
Solidaridad is an international network organization, working in over 40 countries with eight regional offices on five continents. We work with businesses from the market throughout the whole supply chain to make sustainability the norm and enable businesses, farmers, and workers to earn a decent income, produce in balance with nature, and shape their future. We have significant experience working on buyer-led programs to support micro, small and medium-sized enterprises (MSMEs) and (supply) value chains through a combination of business development services and matching grants to support business and value chain growth and transformation.
ROLE DESCRIPTION
This position will provide business development services to MSMEs and value chains in sales and marketing aspects such as product development and branding promotion. This support should draw on direct private sector experience as a sales manager, preferably in food or consumer goods or tourism.
ABOUT THE POSITION
Location: South America
Country: Suriname
City location: Paramaribo
QUALIFICATIONS
At least a bachelor's degree or higher in Business Administration / Marketing or a related field.
Minimum of seven years of experience in a sales and marketing position, with demonstrated experience in managing a sales team.
Ability to identify market needs, convert needs into product specifications and product positioning.
Familiarity with regional and international markets that could be targeted for exports from Suriname of agribusiness, tourism, or other export products.
Broad experience in different business areas to be able to diagnose problems related to sales and marketing.
Ability to select the appropriate distribution channels and negotiate agreements with buyers at the retail and wholesale levels.
Experience in business counseling and sales coaching, including facilitation.
Excellent interpersonal, and teamwork skills, building and maintaining relationships.
Confidence, passion, and enthusiasm for working with MSMEs and entrepreneurs.
Based in Suriname, knowledge of the Surinamese economy and culture is essential. Must be fluent in Dutch and Sranan Tongo.